Cambridge Autumn Festival
2022 Photo Competition
Sponsored by:


We are delighted to announce the winners of the 2022 competition.
Thank you to all entrants, thank you to our wonderful judges, and thank you to the amazing team at PAUA for sponsoring this year's competition.
The 2022 WINNING PHOTO BY BRIAN HOLDEN – Leamington Band Rotunda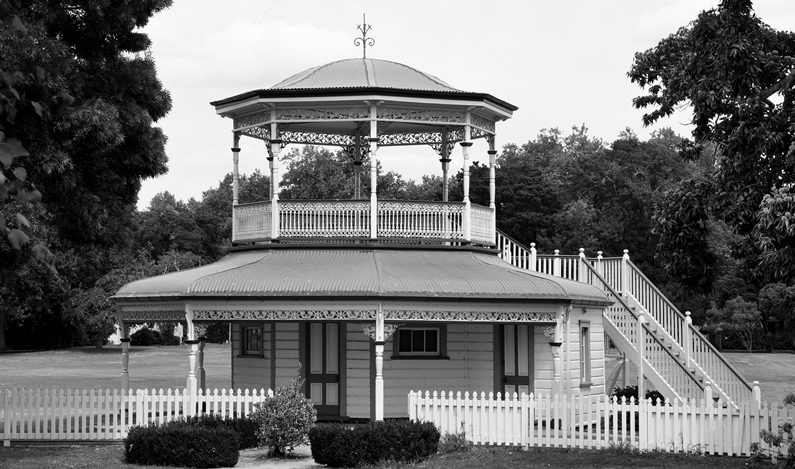 To see other entries in the competition please click here.
PLEASE NOTE: The photos are not to be reproduced or used without permission from the photographers.
The competition theme was Memorable Waipā Architecture and this competition encouraged the community to take another look at the buildings and structures in our district and find creative and artistic ways of portraying them.
Entries spanned a wide range of commercial buildings, private residences, culturally significant and religious sites, civic amenities, sporting facilities and more from Cambridge, Te Awamutu, Karapiro, and Ohaupo. Judges were impressed with the quality of the images submitted and the out of the box thinking that the photographers employed.
New competition sponsor PAUA (Procuta Associates Urban + Architecture) has a long association with the Cambridge community and were "thrilled to support the Cambridge Autumn Festival and excited in particular about the opportunity to highlight some of Waipā's architecture through the photo competition." Principal Architect and art lover Antanas Procuta stepped up to join the judging panel describing the experience as "fun and interesting".
Also new to the judging panel, photographer and gallery owner/operator Jenny Scown said it was "a great theme. I find architecture endlessly fascinating, and photography has opened so many doors for me in my lifetime. These competitions encourage the community to get out and about with their camera and see their own area through fresh eyes."
First prize went to Cambridge's Brian Holden for his stunning black and white image of the Leamington Band Rotunda. It was noted by Mr Procuta as "An absolutely stunning photograph, crisply capturing the intricate Victorian detail of balustrades, valences, brackets, turned columns, the ironwork finial and the elegant sweep of the roofs. Well-balanced and cropped."
Mr Holden recalls "After taking many photos over the last couple of weeks, the Leamington Band Rotunda seemed to tick the boxes. Several shots were taken, with and without people walking past. Not being a fan of the over-cooked Photoshop look, I worked to keep it simple, limiting to cloning out foreign objects including pesky bollards and a bright green rubbish bin. The final touch from colour to black and white instantly turned the clock back 100 years!"
Having enjoyed a lifetime of photography, starting off with film and developing the photos himself, Mr Holden notes "Oh how times have changed and for the better, with digital technology allowing photographers to be much more creative. I always have a camera when out and about – locally and abroad. A Nikon SLR for my serious work and a pocket-sized compact camera to grab those 'spur of the moment' people shots. Even my phone comes out occasionally to capture a special moment when caught short! Drone photography is my latest passion having engaged in aerial panoramas of countless places all around the country – including a sweep over and around the Cape Reinga lighthouse!" He intends to use his prize money to support local photography.
Highly commended was awarded to Les Slone of Ohaupo for his dream-like pastel hued photo of the Cambridge Town Hall taken at sunrise in March 2021 and described by a judge as "A beautifully executed and composed picture with the subtle daylight enhancing the lightly carved nature of the War Memorial and Town Hall, and the tactility of the guarding lion."
First prize is $250 and Highly Commended $100.
The 2022 HIGHLY COMMENDED PHOTO BY LES SLONE
Cambridge Town Hall, taken at sunrise

Sponsored by: