Welcome to our Short Story Competition 2021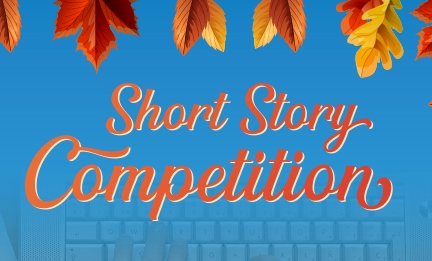 Our Short Story Competition is back! Are you ready for some fun?
The Cambridge Autumn Festival's Short Story Competition 2021 is now open.
It's free to enter and the theme for this year's competition is "Lockdown"- a theme we hope will inspire writers to test their talents and enter this nationwide competition. Writers can interpret the theme in whatever way they wish, but it has to be a work of fiction.
First prize is $1000, second prize $500 and third prize $250. 
There is no entry fee and no age limit. The word limit is 1500 words. Entries close 11.59pm, 31 January 2021, so it's the perfect addition to your Summer to-do list.
Winners will be notified on or before 12 March 2021.
Winners will be awarded in Cambridge Thursday 18 March 2021.
HOW TO ENTER:
There are 2 ways to enter…
a/ Enter online here; or
b/ Download this printable version of Short Story Entry Form 2021, and post to the address given in the Terms and Conditions.
And a massive shout out to our awesome sponsor, who has been an amazing support and stuck with us for many years – Cooney Insurance in association with Maurice Trapp Group.
———————————————————————————————————–
———————————————————————————————————–
If you would like to see the 2020 results, including the winning stories, biographies of the winners and comments from the judges…

Judges for the competition were:
Hamish Wright – Bookseller, former Chairman of Booksellers New Zealand
Venetia Sherson – Former Waikato Times Editor, journalist and author
Denise Irvine – Author and journalist
Jill Carter – Former teacher and passionate educationalist
Judges' comments:
About the winning story: "The title of the winning short story disguises the content of this powerful and at times, shocking piece of writing. The reader is ripped into the characters life as we are taken back and forward within the hours and days that exist in the story. Cleverly drawn and powerfully delivered, Fish and Chips leaves you wounded and scarred. At 3:01am a light opens and the reader can breathe with hope."
Comments about the entries overall from the judges:
"The standard and breadth of ideas was impressive. The opening line, "It was 3am", provided great scope for the imagination, and the range of themes kept me entertained and – in some cases – enthralled. The event continues to grow and showcase emerging writers."
"There was some clever writing among this year's entries, and some quirky takes on the theme. I especially admired the two top stories, Fish and Chips, and Angela's Turtles. They unfolded clearly and subtlety, without contrivance or over-working, and they kept me totally engaged until the last word. All the hallmarks of a well-told short story."
"It was a pleasure to read the wide range of high quality stories entered in this competition. The theme allowed a variety of responses – some very intense stories, some whimsical, and many a testimony to the resilience of the human spirit."
The announcement of winners has been emailed to all entrants.
If you were in the shortlist we have emailed to advise you of this.