Announcing – Cambridge Autumn Festival 2022 Short Story Competition is now open!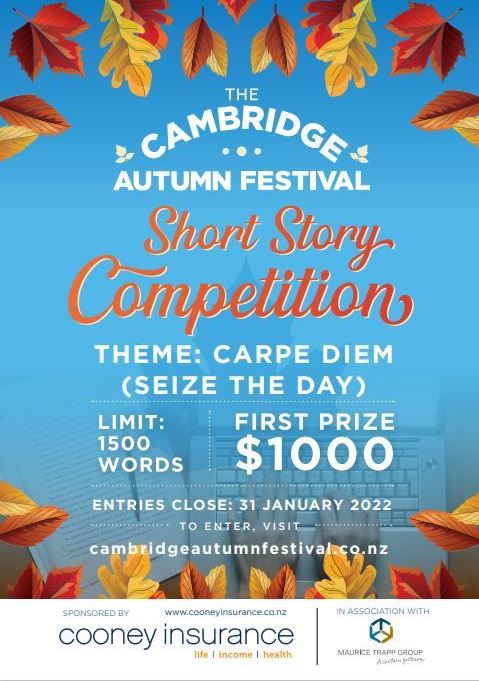 This year, the story theme is "Carpe Diem (Seize the day)" – we hope you enjoy it. Feel free to interpret the theme in whatever way you wish, but your story has to be a work of fiction. We know the hard work that goes into each and every story, and we can't wait to see the entries.
Entries close 31 January 2022 and entrants can submit multiple entries.
There are great prizes to be won…
FIRST PRIZE: $1,000
SECOND PRIZE: $500
THIRD PRIZE: $250
Word limit is 1500 words. It's open to all ages and is free to enter.
We accept online or printed entries:
To enter online please click here.
To download a printed entry form please click Short Story Entry Form 2022. 

Here is the time line for the competition:
Entries close 11.59pm Monday 31 January 2022 and then the judging will begin.
Winners will be notified on or before 18 March 2022.
Winners will be awarded in Cambridge Friday 25 March 2022.
The announcement of winners will be emailed to all entrants shortly after 25 March, and the entrants who were shortlisted (approx. 10 entrants) will be advised at that time.
The competition is open to NZ permanent residents (sorry to our overseas friends who want to enter, we love that you want to enter, but this one's only for NZers).
Happy writing!
_________________________________________________________________________
If you would like to read the winning stories from the 2021 competition, here there are. And we have also awarded a Cambridge Autumn Festival Special Award for one of the 2021 entrants – read more about the Special Award here.

Read author profiles from our 1st, 2nd & 3rd place getters:
Trish Veltman
Mary Elsmore-Neilson
Holly Jamieson

Judges for the competition were:
Hamish Wright – Bookseller, former Chairman of Booksellers New Zealand
Venetia Sherson – Former Waikato Times Editor, journalist and author
Denise Irvine – Author and journalist
Jill Carter – Former teacher and passionate educationalist
_________________________________________________________________________
Short Story Competition Privacy Policy, as at October 2021
Read our Privacy Policy here